On October 14, 2015 Library Journal, School Library Journal, and thousands of library professionals from around the world gathered for the 6th annual Digital Shift virtual conference to focus on the challenges and opportunities presented by the digital transition's impact on libraries and their communities.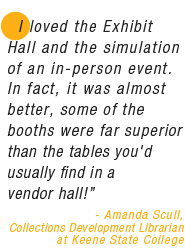 Participants engaged in a dynamic day-long conversation about our shared digital future. We explored how libraries connect communities like no other institution and demonstrated how libraries leverage digital tools to facilitate and strengthen connections among classrooms and communities around the globe.
Libraries Connecting Communities provides actionable answers to some of the biggest questions our profession faces and features thought-provoking keynotes from John Palfrey, author of BiblioTech: Why Libraries Matter More Than Ever in the Age of Google and Denise Jacobs, tech leader, author, and creativity evangelist.
Our roster of expert speakers and panelists presented innovative ideas and tools for and from libraries of all types – school, academic, and public, bringing a national library conference right to your desktop computer, laptop, tablet, or mobile device, complete with:
Interactive Exhibit Hall: learn about the latest products and innovations from leading technology vendors and publishers
Virtual Tote Bag: Download all of the presentations, handouts, and promotional information you want
On-demand Access: Watch all of the programming at your leisure, and download resources for offline access
Registration for the virtual conference is FREE, including all presentations, information and handouts from the show, so sign up today!